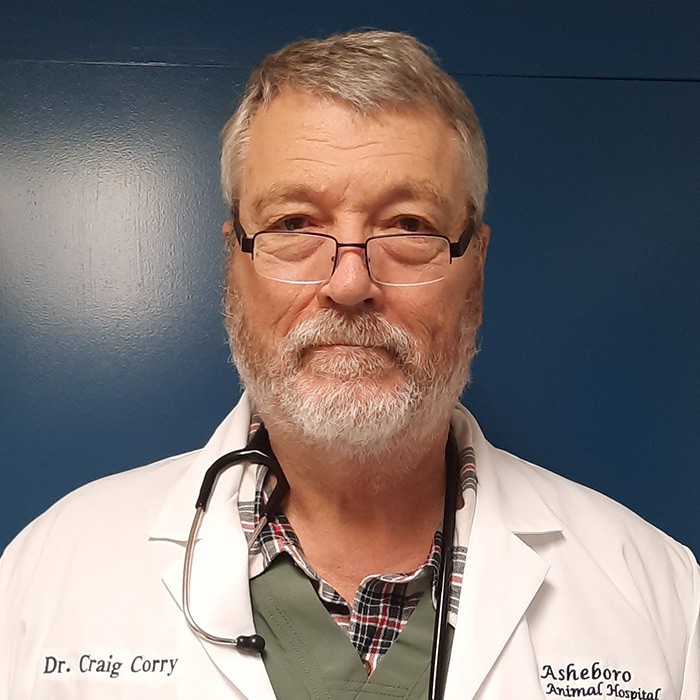 Dr. Craig Corry
Dr. Craig Corry was born and raised in Greensboro NC and graduated from Grimsley High School, class of 1973. He then attended the Naval Academy Prep School from 1973-1974 and received an appointment to the Naval Academy but instead decided to attend North Carolina State University.
He received his Animal Science degree from NCSU in 1978 and entered veterinary school at Auburn University where he graduated with his DVM degree in 1982. He received an Army scholarship for the last three years of Veterinary School.
He became a Captain in the Army Vet Corps in 1982 and was assigned as Officer in Charge of the Army Vet Clinic in Groton CU. Medically discharged from the Army in 1984, he opened Pittsboro Animal Hospital and did large and small animal medicine for 10 years and then all small animal for the next 13 years. After he sold the practice in 2007, he worked primarily at the NC coast with his best friend from vet school until joining Asheboro Animal Hospital in 2022.
His main interest, outside of surgery, is music. He has played several instruments professionally, especially guitar and banjo. He was in several bands including rock 'n roll and bluegrass and did some recording. The highlight of his recording career was recording a CD at Abbey Road Studios in London.
Dr. Corry still does a lot of playing at private parties, weddings and more. He is looking forward to working at Asheboro Animal Hospital full time.